Upcoming Events

 The Second Annual Online Creativity for Mental Health Professionals
                                                           Create Fest is all about empowering therapists to awaken your creative spirit and reignite passion for your work.                                                                                 12 speakers are passionately committed to helping you revitalize and enhance your practice.
---
 Goddard College Expressive Arts Workshop by Terry Marks-Tarlow, PhD
Accessing Creative Practices through Developing Clinical Intuition
Saturday, March 18, 2017, 
9:00 am – 5:00 pm
General Registration: $150
Alumni Registration: $135
(CEs available for $20.00 payable
on the day of the event)
As psychotherapists, how do we know exactly what to do and say? Clinical intuition is indispensable to effective psychotherapy, yet the topic is rarely discussed within the current social politics of our field. Clinical intuition fills the gap between theory and practice through moment-to-moment, embodied perceptions, and emergent responses unique to each person, moment, and therapeutic dyad. By tapping into clinical intuition, we naturally access our interpersonal creativity, which allows us to tap into flow states and keeps our work inspiring and fresh.
This cutting edge workshop explores conscious as well as non-conscious aspects of intuition that arise in therapists and patients alike. An interactive format integrates nonlinear sciences, interpersonal neurobiology, and artful dimensions of psychotherapy. In this partly didactic, partly experiential seminar, we will explore clinical intuition from multiple perspectives:
The paradigm shift afforded by nonlinear science (chaos theory, complexity theory and fractal geometry) for mind/body/brain integration;
Intuition's workings via bottom-up, implicit, non-conscious modes of communication;
Its evolutionary and developmental roots within mammalian limbic emotional and motivational circuits;
Its creative manifestation in the therapeutic dialogue through PLAY, including unconsciously orchestrated games that organize relational bids and rhythms of engagement, defense, and novel emergence.
Click here to read full event details
---
CRACKED ORLANDO: DRAMMA PER MULTIMEDIA E FRACTALS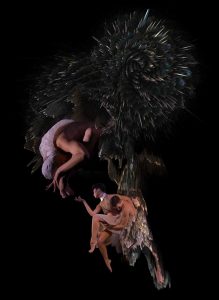 *New production presented by Arts Beyond the Machine with the Juilliard School's Center for Innovation.
Jonathan Dawe's CRACKED ORLANDO is a delicate mini opera/ballet running approximately forty minutes and designed specifically for performance in a museum. Recasting energies and sounds of the Italian Baroque, this composition reforges references to early eighteenth century music through compositional workings based upon fractal geometry. A truly miniature work, aspects of the music and drama are distilled into crystallized moments, ranging from shimmering stasis to mercurial flashes. In keeping with these ideas, the text has been extracted from the libretto originally used by Vivaldi, and regrown using fractal methods as well.
Cracked Orlando from the epic fantastic tale by Ariosto, tells the story of Orlando, who in love with Angelica, pursues her to the island of the sorcerer Alcina, only to discover that she truly loves Medoro. Trapped within Alcina's enchanted realm and distraught with profound jealousy and despair he is taken by great madness. His sickness resolves only when Alcina's power is broken, all illusions are lifted, and her lush island is revealed as the barren desert it truly is.
COMPOSER Jonathan Dawe
LIBRETTO Terry Marks-Tarlow
ORLANDO Brennan Hall, countertenor
ANGELICA Sharon Harms, soprano   
ALCINA Jacqueline Horner-Kwiatek, mezzo-soprano
---
April 21, 2017      Roseville, Minnesota
       April 24, 2017      Bloomington, Minnesota
PESI SEMINAR SERIES:
Mindfulness and Creativity Tools
to
Heal
the Body and
Transform the Mind
Click here for full brochure: pesi-mindfulness-and-creativity-tools-to-heal-the-body-transform-the-mind
Call 1-800-844-8260
---
SATURDAY, April 1
10:00 am – 1:00 pm
The Five Qualities of Mindfulness: A Multidisciplinary Experience
Terry Marks-Tarlow, PhD
---